Members of our Analytics & Algorithms team are out and about this month – come by and hear us speak!
San Francisco
Eric Colson, our Chief Algorithms Officer, will be speaking at the Data Science Summit about the work we do at Stitch Fix in synthesizing human and machine capabilities. Catch him on July 13! (schedule)
Austin
TJ Torres, from our Styling Algorithms team, is headed to Austin, TX to present a poster at SciPy 2016. He's presenting on The Universality of CNN Distributed Representations. Find him on July 13 at 6pm in the Grand Ballroom!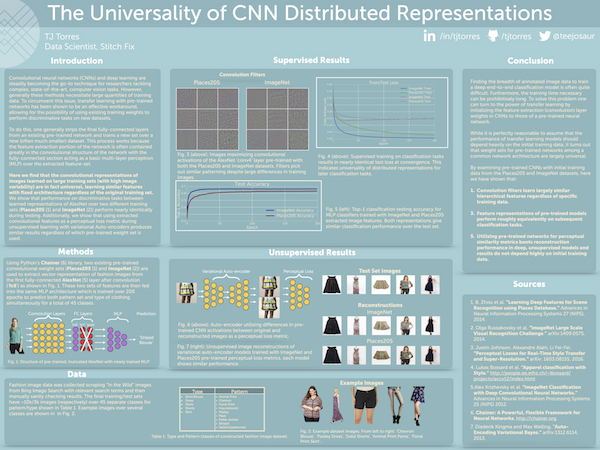 Chicago
Hilary Parker, from our Client Algorithms team, is headed to Chicago for the Joint Statistical Meetings on July 31 to present a poster about how we use statistics throughout our product at Stitch Fix. She also has organized a session on Applied Visualization in Industry and Journalism for the Section on Statistical Graphics on August 1 at 8:30am, featuring speakers such as Jeff Leek and Hadley Wickham.
Additionally at JSM, one of our data science interns – Ved Deshpande – is presenting his graduate research on penalized generalized estimating equations on August 3 at 10:55am.
Up & Coming
We're proud to be sponsoring the Fourth AAAI Conference on Human Computation and Crowdsourcing (HCOMP 2016) in Austin, October 30 - November 4.
You'll also see Stitch Fix folks presenting at: